Crafting A Folding Bed Cover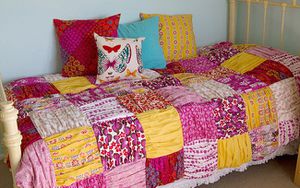 I recently purchased a folding bed for when my daughter comes to visit. I bought the 39 inch Wide Hospitality Rollaway Bed with 6 inch Tufted Premium Innerspring Mattress and it was exactly as the review described so I wasn't surprised at all except for the fact I don't have any sheets or covers for that particular size.
What can you do? I decided I had best sew myself a new set of covers! It's cheaper to utilize the spare stuff I had lying around rather than buying new covers for a folding bed that would only be used a couple nights a year.
First, I took the measurements of the rollaway bed. Sure it says 39 inches, however that wasn't the true case! For fitting sheets and covers you need the precise dimensions and so I grabbed my tape measure and went to work.
After all the measurements were done I realized I was going to need a lot of space to work in. Finding a place to spread everything out and have the rollaway bed available for testing was difficult. I did figure it out though, I used the garage.
Having old sheets for the bed was handy, since I didn't need to purchase material. I merely had to fold the sheets and covers to the new sizes, put in a few pins to keep it all together, and then bundled it up and headed for the sewing machine.
I used 1 inch seams, but you can use whatever you like. For the side that lays near your head, I went with 3 inches to mimic real sheets. You may change that up as you see fit. I also followed a pretty good tutorial on making bed covers.
All in all, I was pretty happy with how my sheets turned out, and I think my rollaway bed looks fantastic!